Morgan's stated mission is "to improve the quality of life for individuals of all ages and all abilities through initiatives that produce fully-inclusive, Ultra-Accessible™ experiences."  We see ourselves as a hub of inclusion and accessibility. Our values are to empower, include, educate and innovate the world around us to bridge the gap between all abilities. We've grown so much in the last few years and we'd love to share our story with you.
Morgan's Family of Entities
click on a logo to learn more
FOSTERING CHANGE
More Than A Non-Profit
Morgan's is more than a nonprofit organization; it's a movement of inclusion. Our 501c(3) oversees and includes five Ultra-AccessibleTM, fully-inclusive facilities where individuals of all ages and all abilities can come together for recreation and a better understanding of one another. At our core, we believe that everyone deserves the right to enjoy and experience life, regardless of cognitive or physical ability. By removing barriers, we can help bring together people of all abilities to better understand each other and build friendships and make a better world.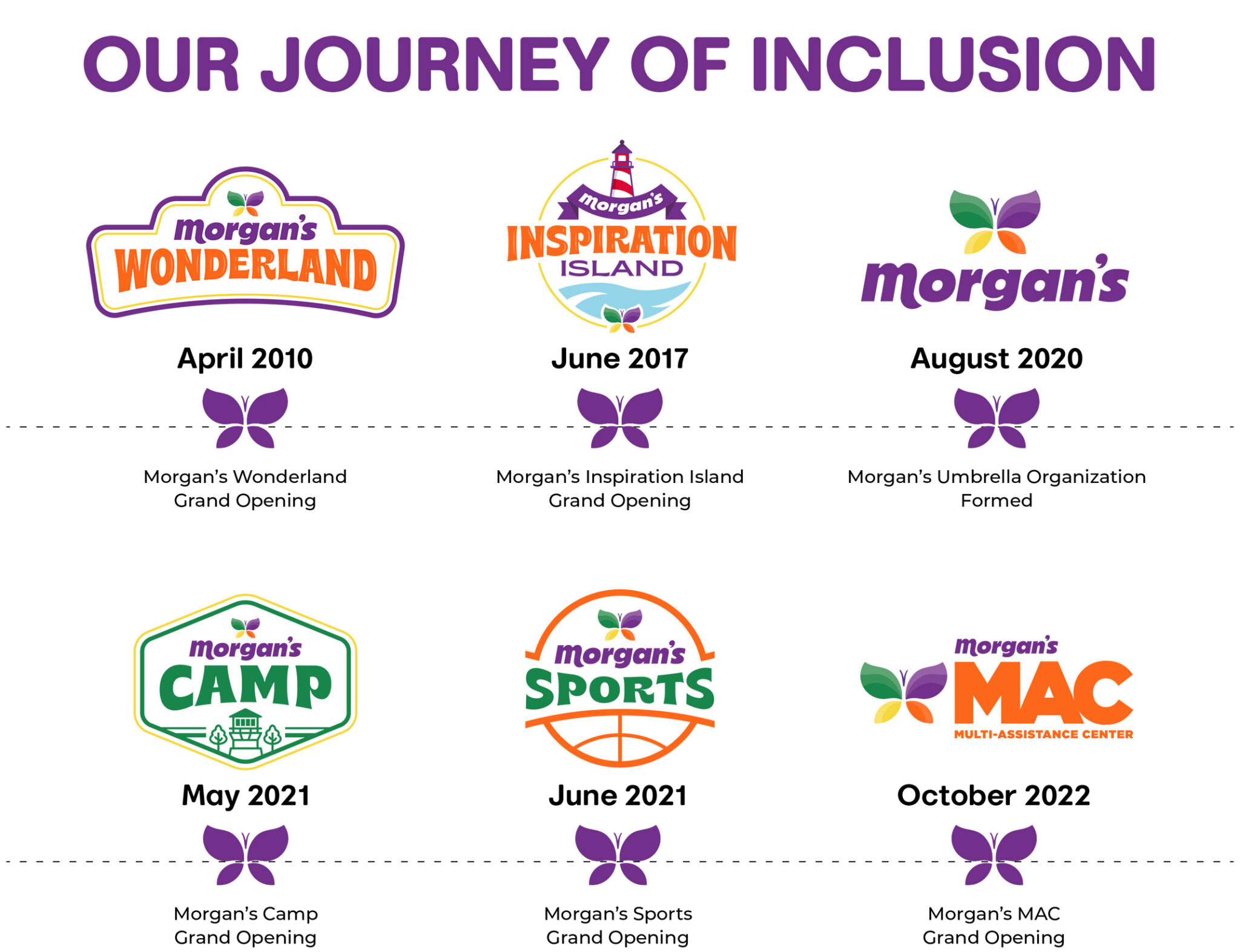 "My sister is special needs and its truly amazing that she can go on every ride in this theme park. The rides are all wheelchair accessible and very gentle but at the same time still fun for all ages. I would highly recommend going here... This place is truly phenomenal and a great way for me to connect with my sister."
"Amazing facility! My daughter loves water and the accessible water park makes her feel exceptional and included instead of excluded. Thank you for filling this much needed gap for adults with disabilities to have a fun recreational outlet!"
"My daughter with special needs attended one day camp and loved it.
The lazy river is her favorite."
"Best relaxing safe place to enjoy with the family! Everyone is nice you see smiley faces all the time.
Highly recommend."
"I loved this place and so did my 2 1/2 year old son. I was so impressed with how well they included everyone. I would highly recommend if you are in the area. I especially liked the warm water section of the water park and how my son was able to do most of the activity on his own. Im just saddened that there are not more places like this. Thank you for creating such a wonderful all inclusive place. Keep up the great work."
"Wonderful Camp site... our first time here. Great place with very many amenities."
NEWS & EVENTS
Stories to Inspire